Nowadays, we all use Instagram. Everyone's taste, character, and what we like is different. Here are some Instagram bio ideas for you. Choose the best bio for your Instagram account.
Here is a list of 136 cool Instagram bio ideas.
The best things come from living
outside of your comfort zone.
Here's my story for the history books
l'm a cupcake in search of her stud
muffin
In a world where you can be anyone,
be yourself
Success is in my veins
Yup, Im just another Instagram
influencer
No, this isn't a dream. This is my
reality.
What should I put here?
Welcome to my world
Happy mind, happy soul.
When life throws a rock at you, throw back a
brick.
Why is "'abbreviation" such a long word?
On the other hand, you have different fingers.
I'm not sarcastic, I'm just honest.
I'm not bossy, I'm the boss.
l bet you I could stop gambling.
I'm like a candy bar: half sweet and half nuts.
There may be no excuse for laziness, but I'm still looking.
I'm not weird, I'm a limited edition.
I like you. You remind me of when I was young and stupid.
Silence is golden, but duct tape is silver.
I'm not short, I'm fun-sized.
I'm on Instagram, like you!
Living vicariously through myself.
I'm not rude, I'm brutally honest.
l'd tell a chemistry joke but I know I wouldn't get a reaction.
Life happens. Coffee helps.
l'm a glowstick – I had to break before I could
shine.
Be you, the world will adjust.
Be cool.
Simplicity is the key to happiness
If I was a writer, l'd have a better
Instagram bio quote
You can't become the best without
first being the worst
In a world of worriers, be the warrior
It won't be easy, but always try to do
what's right
She turned her can'ts into cans and
her dreams into plans
Life is what happens to you while you
scroll through Instagram
A day in the life of me: Eat avocado
toast, post Instagram videos, read
Instagram comments
It's my time to step into the spotlight.
I've earned it.
I practise what I post.
Creativity solves everything.
I would rather die of passion than of boredom.
Alll do is win, win, win. No matter what.
Making history.
A very caffeine-dependent life form.
The best of me is yet to come.
Life isn't perfect but your photos can be
Happiness never goes out of style.
Who runs the world? ME.
It took me years to look like this.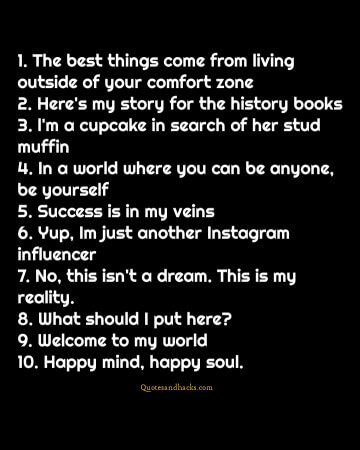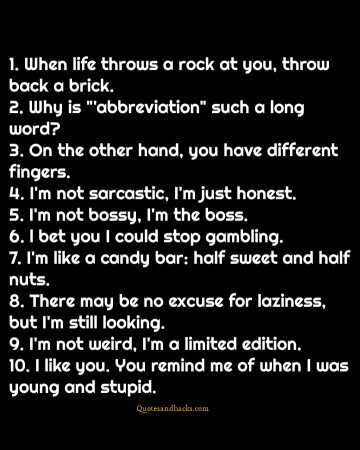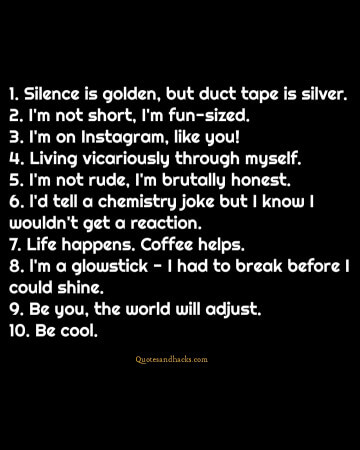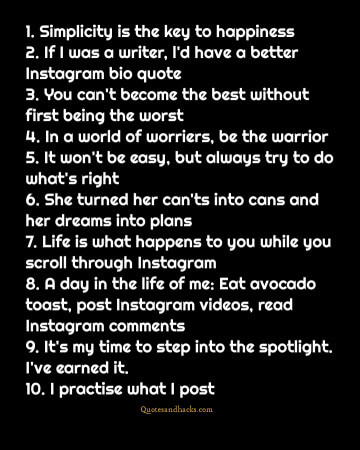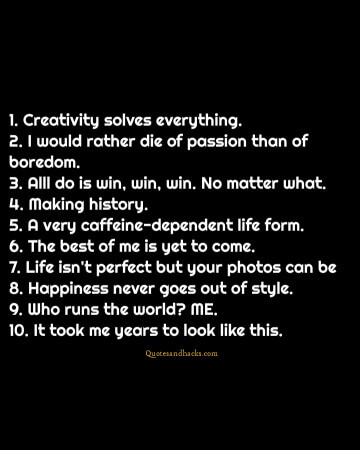 Everyone else was taken so this is me.
In a world of worriers, be the warrior.
Simplicity is the key to happiness.
Creating my own sunshine.
Be anything but predictable.
Living the dream
Keep it real
Less is more
Smile, it's free
Living my best life
Keep it simple
Less talk, more action
Smile, it's contagious
Simplicity is the key.
Follow Me To Greatness
Follow me and Ill follow back
Thank you, come again.
Don't know what to do? You can start
by hitting that follow button.
Follow my story
Click the follow button to be part of
my journey
Wanna know my story? Press that
follow button.
I'm on my journey. Join me by
following along.
Follow me then follow the link below!
Pls follow us on Instagram
My story will inspire you, so be sure
to hit that follow button
Follow me to get a behind the
Scenes look at my life
Follow along to witness history in the
making.
We are born to be real, not perfect.
Silent people tend to have the loudest minds.
Don't regret the opportunities you were too afraid to take.
Here's my story for the history books.
What should I put here?
No this isn't a dream, this is my reality
The best things come from living outside of your comfort zone.
When I'm downie | eat a brownie.
I'm best served with coffee and a side of
sarcasm.
I hold the key to the secrets of the universe. I just can't find the lock.
Conquering from within.
Being a rainbow. Are you color blind?
Looking for hashtags – they look like waffles.
Today I will be as useless as letter "g" in lasagna.
Trying to watch more sunsets than Netflix.
Welcome to my world.
Chasing my dreams, one day at a time.
I woke up like this.
Celebrating life every day.
A story teller through the lens.
It's not an attitude; it's the way I am.
l am no one to harm you. IIl let karma bash you.
My attitude is my approach.
Reality is wrong. The dream is real.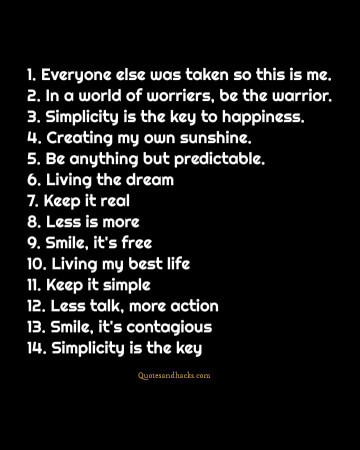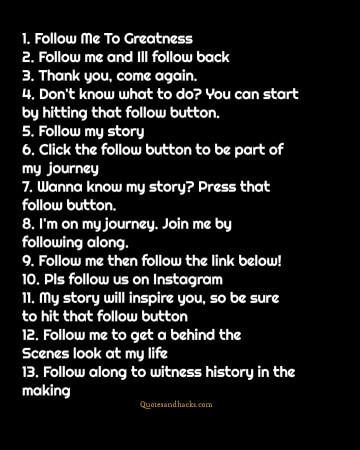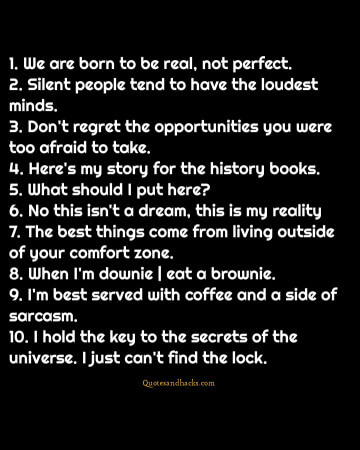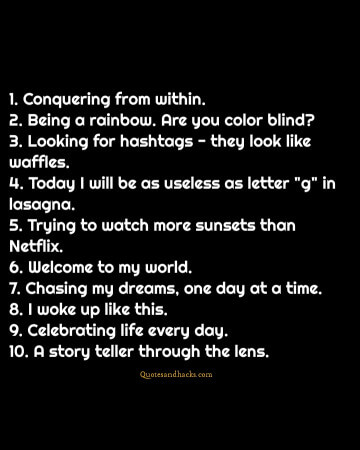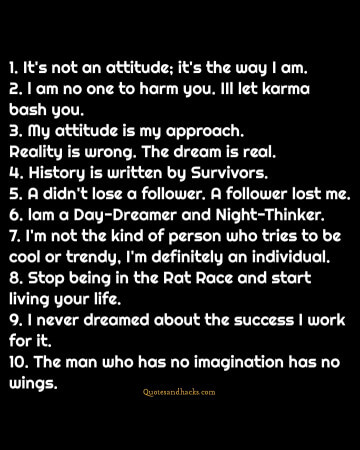 History is written by Survivors.
A didn't lose a follower. A follower lost me.
lam a Day-Dreamer and Night-Thinker.
I'm not the kind of person who tries to be cool or trendy, I'm definitely an individual.
Stop being in the Rat Race and start living your life.
I never dreamed about the success I work for it.
The man who has no imagination has no wings.
I say no to alcohol daily. It just doesn't listen.
Stop being in the rat race and start living your life.
Time flies… after you hit the snooze button.
Life is too short to update my Instagram bio.
Lover of Life, Hater of Boring
Setting trends, not following them
Poses like a pro, filters like a magician
Enjoying the rollercoaster called life and
providing entertainment along the way.
All about the aesthetic life.
Capturing beauty in everyday moments.
Lover of minimalist vibes.
Finding art in every form.
Dream chaser.
Aesthete at heart.
Believer of all things beautiful.
Stay aesthetic
Living for aesthetics & good vibes
Making mundane look extraordinary
Ocean lover, wave chaser, saltwater soul
Shine bright like a diamond
Welcome to my visual journey
Aesthetic aficionado.
Captivated by pretty things and beautiful places.
Art & Beauty curator.
Minimalist in making
Van life traveller
Wanderlust fueled by flat whites.
Insta Blogger + Creator
Aesthetic life.
Aesthetic Lover
Living and breathing aesthetics
Curator of visuals, designer of dreams